ISO 9001 : 2008
ISO 14001 : 2004
OHSAS 18001 : 2007
TIS 18001 : 1999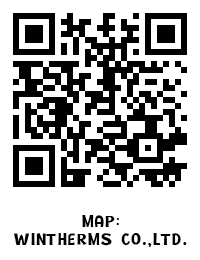 is a great pleasure to introduce WINTHERMS CO., LTD. and its services and products in the fields of supply Polyisocyanurate Foam (PIR) ,Polyurethane Foam (PUR) and High Density Polyurethane Pipe Support (HD Pipe Support) products and services.
The company has been owned by 100% Thai operating to meet international standard with the most experienced management and organization. The company has formed to serve a demand of Thai industry and some oversea customer who require in the specialized low-temperature protecting products.
WINTHERMS provide a high range product grades supporting from the world leading polyurethane company completing with technical supports and laboratory testing.
OPERATIONAL OBJECTIVE
The operational objective of Wintherms Company Ltd. is to offer the highest quality products and services performed in line with Internationalsafety standards and achievingcompletion within schedule.
WINTHERMS aims to be a provider of quality products, services and advice to our customers.
This requires an understanding of the customers needs and an appreciation of the most suitable product to solve their problems. We have sufficient experience and technical knowledge to specify the right product for its applications.
FIELDS OF APPLICATION
THERMAL INSULATION FOR HOT/COLD PURPOSES
Power plants, steam pipe lines, process plants and Hot storage tanks. Hot Water Heater Tanks, Insulated Drink and Food Containers, Temperature Controlled Rooms/Vessels, Pipelines/Valves.
BUILDING INDUSTRIAL
Facades, air conditioning installations and insulation of roofs. Cooling-water and refrigeration plants, cold storage rooms and cells.Sandwich Panels, Pre-insulated Pipes, Molded or cut half sectionals, Spray Foam, Rigid Slabs, Support for manufacture of lightweight concrete and pre-fabricated wall/slabs.Heating pipes and duct works system.
FUEL/GAS/CHEMICAL & PETROCHEMICAL PLANTS
Gas plants, cooling towers and cold piping, fittings, liquid gas tanks, liquefying plants (LNG), water treatment plants.The economy of oil and gas storage is always of great importance for refineries and other petrochemical plants. WINTHERMS are experienced in cryogenic insulation and thermal insulation for this type of work.
BUOYANCY & VOID FILLING
Buoys, Pontoons, Filling of voids to prevent pests and vermin.
MAINTENANCE & PRODUCTIVE SERVICES
WINTHERMS has experienced for the maintenance and replacement/rejuvenation of Cold insulation on various plants and have systems available for live line replacement of insulation at minus 104 oC.This has given an opportunity to offer to the customer's need by the Thai experienced engineering company as meanwhile the important of maintaining the processing plant on life operation at the same time where the maintenance and repairing are indeed in order to ensure not interrupting the process.
Please consult to Wintherms for requirements.
SERVICES
It is the intent of our company to provide the highest possible degree of application service and technical support to our customers WINTHERMS has the following services availability:
-Polyisocyanurate (PIR) and Polyurethane (PUR) Pipesection and Slab Production and application.
-High Density Pipe Supports (HD Pipe Supports) in various stages and steel plate fabrication and application.
– PU Injection & Spray Foam Services.
– Technical advice and Insulation System design such as economical insulation thickness, preparation of drawing.
– Provision of experienced supervisory personnel.
– Installation of Thermal, Acoustic Insulation and Cryogenic(Cold Insulation) to international standard.
– Protective & Corrosion coating and Polyurea coating.
– Scaffolding Services.
– Fire Protection to Equipments & Steel Structurals.
– Others : Refractory lining and Brick works.